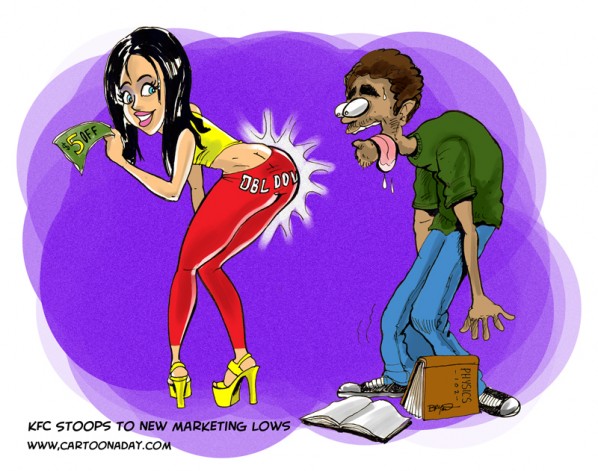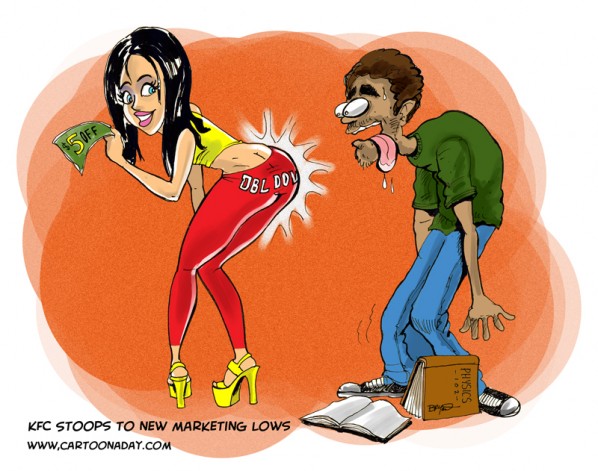 Are Customers Taking KFC in the Rear?
It's true…KFC (Kentucky Fried Chicken)  is paying atractive Female college students $500 to wear the words "DOUBLE DOWN" on their backsides, while handing out $5 OFF coupons to KFC . This new marketing campaign focuses on MAN'S need for meat, and American's need for EXCESS with an artery -clogging, heart-attack-inducing, mega-food called the DOUBLE DOWN. If you've been living under a rock, it's 2 breaded Chicken Breasts, sandwiching double layers of cheese and mayo and bacon. Yum! (Gag).
I've never tried one, since my cholesterol levels are perfect.
Enjoy!
More Cartoons Like This:
A female college student wearing tight pants lures an unsuspecting college male to his dining doom with offers of discounted KFC.