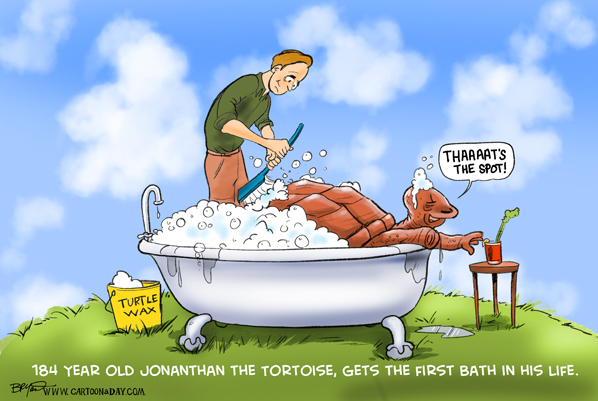 Jonathan the Tortoise Cartoon
Jonathan is the name of a tortoise living on a little island you've most likely never heard of. Jonathan is special because he's believed to be 184 years old, though he refuses to supply his birth certificate. His age makes Jonathan the oldest living land animal in the world. He lives on a tiny 6mile by 10 mile island 1200 km off the coast of Africa called St. Helena, which is a territory of England.
He's getting what his Vet believes is his FIRST BATH EVER, in anticipation of the arrival of Prince Edward, the Queen's third son. The Prince is only coming to cut the ribbon on the grand opening of the very first airport on the island. For all its history thus far, St. Helena was only accessible by boat, and a 5-day trip at that.
Also, St. Helena is where they shipped Napoleon ( Yeah THAT Napoleon) to live out his remaining days in exile, where he died in 1821. Quite a lot going on for an island with under 5,000 inhabitants.
More Cartoons Like This: