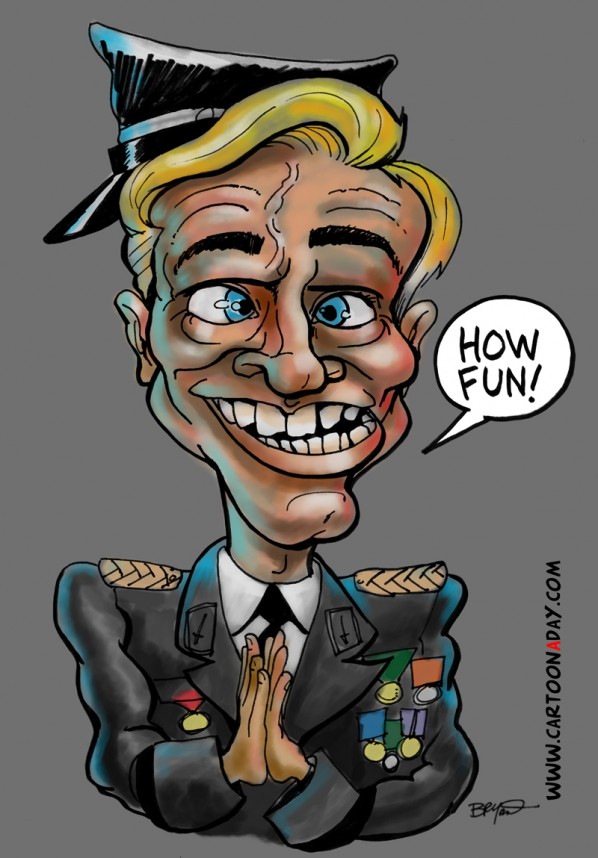 After rewatching Inglourious Basterds I felt like doodling who I think will win the upcoming Oscar for Best Supporting Actor, Christoph Waltz. He was HILARIOUS as a goofy, self-centered, multilingual Nazi in the film. Now I don't support Nazism of any kind. This is just me holding up my funhouse mirror to pop culture. This was a super-quick stright in pen sketch I scanned and colored up just for you guys.
I'm hoping, based on his outstanding performance, the Academy honors him with an Academy Award.
Here's a link to Christoph Waltz for the curious or just Lazy.


More Cartoons Like This:
Show satirically how funny and silly Christoph Waltz character's Hans Landa was in the film. One word, hysterical.
Inspiration:

Inspired by a re-watching of the film Inglourious Basterds, properly spelled as Inglorious Bastards. He was nominated for an Academy Award.
Time:

Pen sketch about 20 Minutes, Painting : 15 Minutes