3-D Book Art- Cutout Book Sculpture
…And NOW for something completely different.
During an hour-long artistic block I shambled out into the garage for inspiration. On the homemade shelves I found an old old high school textbook. It wasn't what I was looking for, but exactly what I needed.
Back inside I grabbed my cutting board and x-acto knife and went to town. I began cutting into the book with very little thought. In the back of my mind I've seen this type of sculpture before, but didn't know how to go about it. Cut…cut…cut… This textbook was about 500 pages and the ache in my arm felt every one of them. Here's the Result, followed by some progress shots. I KNOW it's not a cartoon, but I definitely think it's art.
Each page was meticulously cut by HAND. Each image that appears within the "window" is intact and whole on the page where it was originally printed. No glue, tape or adhesive was used.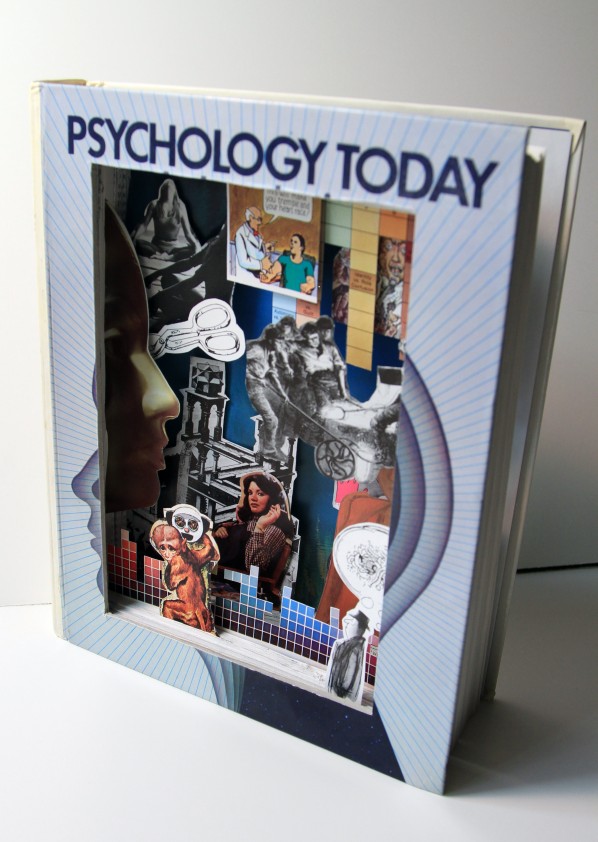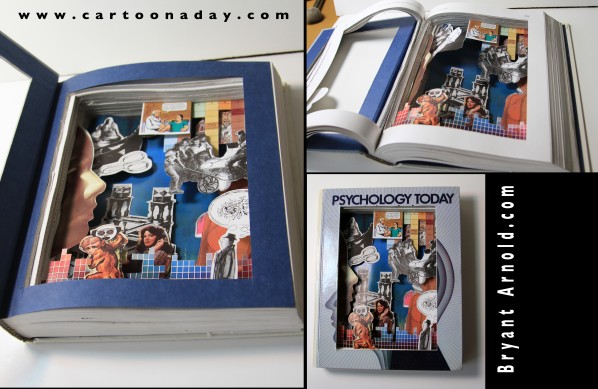 The black behind my cutting is a self-healing, flexible cutting mat available at any office supply or craft store. You'll want a cork-backed (no-slip) steel edged ruler to guide you through the endless straight cuts. Yes I'm right-handed, so the camera (in my left) shakes.
3d Book Sculpture 1
3d Book Sculpture 2
On hindsight, It would have gone faster and smoother to just cut the big rectangle out of all the pages, and don't think about each page and the art therein. You could go back later with cutouts (even from another book) and a little tape to simulate the process.
3d Book Sculpture-progress3
As I pointed out, it was difficult to CUT AROUND the cutouts after I decided on them.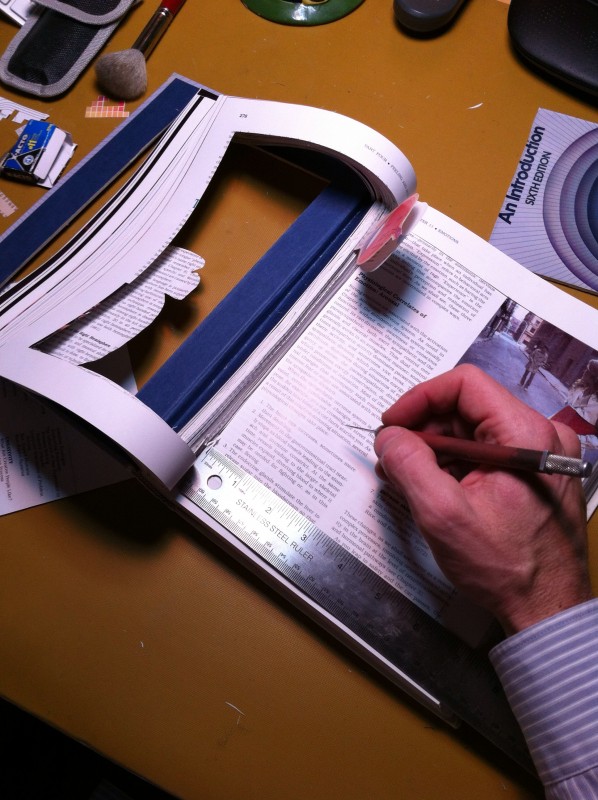 Now that it's finished I would do things a bit differently. But if you're feeling brave enough and have some experience with a knife, I recommend giving it a try, but slowly. I am a very experienced paste-up graphic designer with years of skill with a knife and accidents STILL happen when you rush. See Below ( an accident while working a year or two ago, on deadline and in a hurry):
More Cartoons Like This:
Inspiration:

Artist Bryant Arnold tries his hand at a 3-D Book sculpture. This 3d Sculpture was cut from an old textbook.