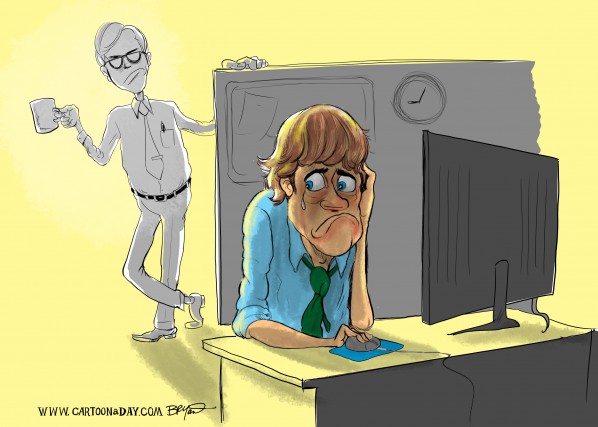 Top 10 Reasons to Quit Your Job!
Forbes' Jenna Goudreau wrote a sweet article on the Top 10 Signs It's Time to Leave Your Job, and I thought I'd illustrate it for today's Cartoon a Day.
Here's a recap, and the full story is linked below.
Apparently, a whopping 74% of American employees are not satisfied with their jobs. It's small wonder, since it's 'work' and not 'play'. But we all strive to reach a job position that nearly equals something we love to do. Here's the signs it's time to pack up your horse and ride off into the sunset.
1. You're No Longer Valued: Your work goes unnoticed, you get no recognition-financially or otherwise.
2. Being Passed Over for Promotion: Company is telling you you're not a priority.
3. Denied Merit Raise: Depending on the circumstances, this is also a sign, but consider the Company's profitability.
4. Inflexible: You try to work it out with a boss or company who won't budge.
5. Your Time May be Up: Culture shifts and cost-cutting within your company may signal upcoming layoffs.
6. Management Change: A Big change in management or a new 'team' being brought in, are signs to move on.
7. Too Much Downtime: If you don't have enough to do, someone is not communicating with you on purpose.
8. Not Included in Change: Change happens. When is happens all around you and you're not included, something's wrong.
9. It's Just Not Working: The Job makes you physically ill. "Stress Creep" involves incrementally losing more and more "you" time to stay healthy.
10. Chronic Illness: Back problems, headaches, stomach pain, sleeplessness; all signs your job is upsetting you.
More Cartoons Like This:
Inspiration:

Cartoon featuring a sad employee hunched over a desk cubicle. His mean boss stands behind him.