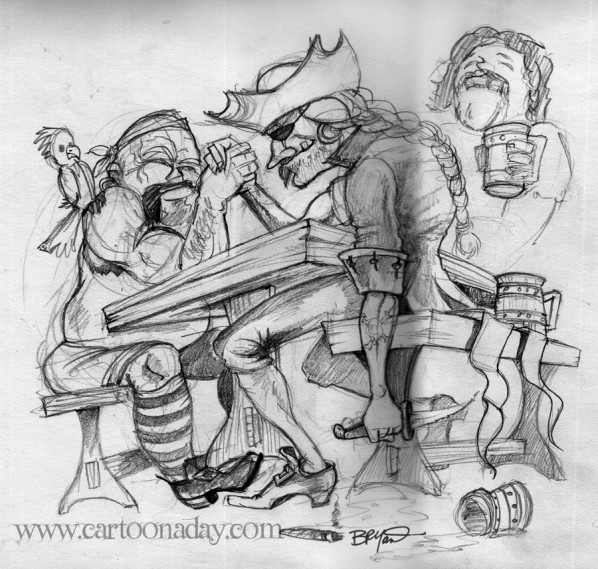 International Talk Like a Pirate Day Strikes Again
Avast ye, Me Hearties! Today be the day ye best be keepin a weather eye on yer shipmates fer any backstabbin' landlubbers! Arrrrrrrgh! But even less seriously, today is the International Talk-Like-A-Pirate-Day. You can even look it up (crazy I know)! Or you can give these fellas some  (Aaaarrrrgggh!) link love by clicking this link to the site. I (Aaaarrrrgggh!) sketched up this intially with a real hard, very light 9h pencil with just shapes. Then my office buddies (Terrance(from England)  and Dobrin(from Bulgaria)) volunteered to (Aaaarrrrgggh!) stand in as my character models. I grabbed my trusty 6b lead holder and a couple cups of  (Aaaarrrrgggh!) coffee later, what you see is what you get (Aaaarrrrgggh!). If I get enough feedback on the (Aaaarrrrgggh!) sketch, I'll repaint it in Corel or Photoshop with some juicy shading and mood color. For the graphic artists out there, the font for Cartoon A Day.com in the image is "Fairydust" and it's free to d/l I think.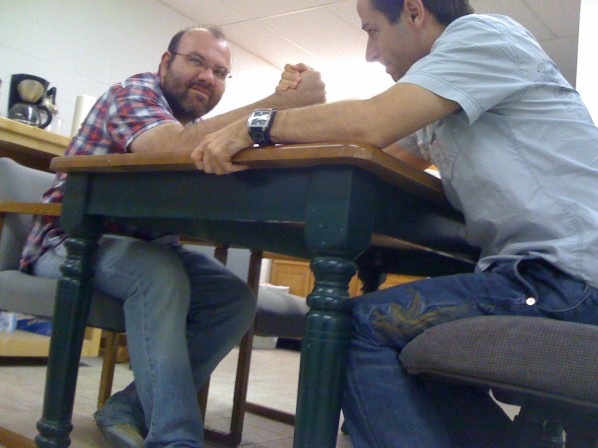 More proof that I work a full 9-5 office job, and dream of drawing all day (Aaaarrrrgggh!).
More Cartoons Like This:
A cartoon sketch of 2 armwrestling pirates. One pirate is burly and strong, the other lean and mean, concealing a dagger. Talk like a pirate day.
Inspiration:

Inspired by the International House of Pancakes, the International Talk Like a Pirate Day, and International relationships.