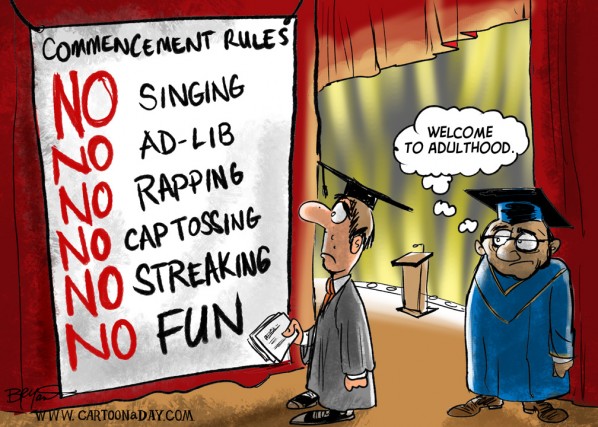 High School Graduation Ceremony Cartoon
Thousands of kids today are Graduating High School. They've donned their caps and gowns, and begun that long walk upstage to collect the document which supposedly readies them for the rest of their life. All I remember about my graduation was not going.
What kids today will remember in 20 years thinking back on their Graduation Commencement addresses is the controversy. It seems because it's a privilege and not a right to be chosen to speak to your class, you can be censored, monitored, curtailed, stifled, stunted, muted and more. School districts aim to preserve the reserved austerity of the commencement address.  The graduation ceremony can be a profoundly moving experience for young minds, but let's hope it's not THE MOST profoound tingto happen in their lives.
Good luck, Graduates! Now get a job!
More Cartoons Like This:
Inspiration:

Fun daily cartoon about High School graduation. The graduate stands backstage ready to give commencement address.