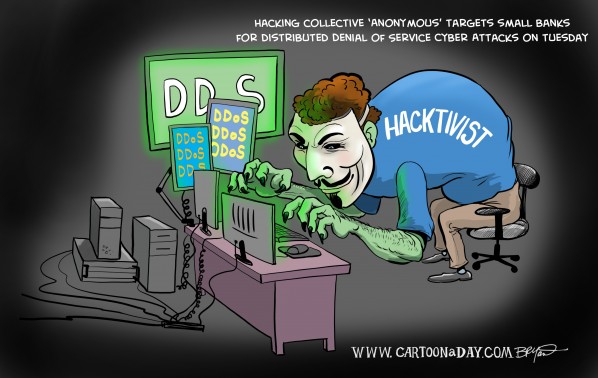 Hacktivists 'Anonymous' Plan Cyber Attack
Hacking collective 'Anonymous' targets small banks for distributed Denial of Service Cyber Attacks on tuesday
Hacking collective 'Anonymous' targets small banks for distributed Denial of Service Cyber Attacks on Tuesday. It's been reported that Iranian Nationalists are determined to systematically harass U.S. Financial Institutions. A DDoS is a Distributed Denial of Service attack, resulting in a business' website crashing due to an overload of traffic.
Read more at USA Today Here.
More Cartoons Like This:
Cyber terrorist group 'Anonymous' plans to attack bank websites Tuesday.