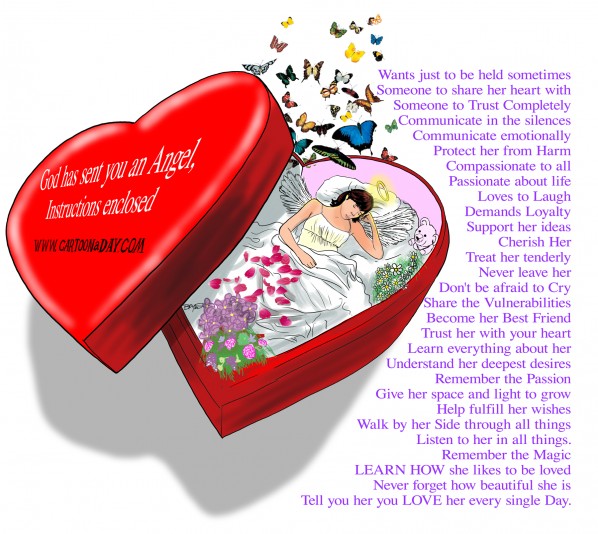 God Sent You An Angel Cartoon Heart Shaped Box
Today's cartoon is a tale of experience, drama, heartbreak , love and failure.
God Sent you an Angel for a Wife,
and she comes with abstraction Manual
Wants just to be held sometimes
Someone to share her heart with
Someone to Trust Completely
Passionate about life
Compassionate to all
Loves to Laugh
Demands Loyalty
Protect her from Harm
Communicate emotionally
Communicate in the silences
Learn everything about her
Understand her deepest desires
Help fulfill her wishes
Cherish HerWalk by her Side through all things
Never leave herTrust her with your heart
Don't be afraid to Cry
Share the Vulnerabilities
Become her Best Friend
Treat her tenderly
Remember the PassionGive her space and light to grow
Support her ideas
Listen to her in all things.
Remember the Magic
LEARN HOW she likes to be loved
Never forget how beautiful she is
Tell you her you LOVE her every single Day.
More Cartoons Like This:
Men help yourselves with this Guide to treating a Lady!