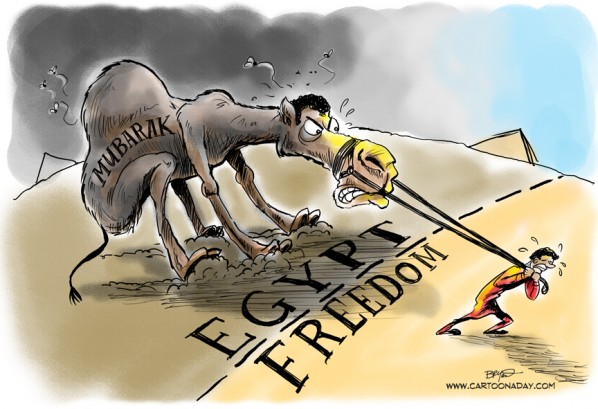 Egypt's Mubarak Stubborn Political Cartoon-Tutorial Workshop
If you're not following the Crisis in Egypt, you may be dead and you should rush yourself to the emergency room. Trouble brewing in Egypt is reaching its boiling point. President Mubarak, trying to keep control of his country, is attempting to appease the people by appointing new Government members. But all the people of Egypt really want, is the tyrant GONE.
SO my fellow artists and fans, as I do once every so often, I've added another tutorial/workshop. This political cartoon tutorial will walk through the broad strokes of how I will create a typical daily cartoon. In this case, the pen illustration is all digital, directly in Photoshop. Normally, I try to ink my linear with actual pens and markers, but I knew I was building a Tutorial for you!
Political Cartoon Tutorial Workshop Step 1- Sketch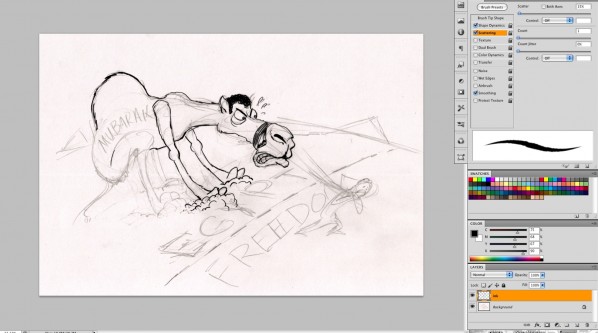 Here's the sketch, scanned on a flatbed scanner (11″ x 8.5″ white cardstock). The first step is to create > NEW LAYER for the lineart. I create a new brush using a simple round. I make sure it's set to PEN PRESSURE for my Wacom tablet, and add some SCATTERING. Without SCATTERING, I feel the lineart looks too "Digital" for me. The SCATTERING breaks up the line a bit, simulating some paper texture.
Political Cartoon Tutorial Workshop Step 2- Lineart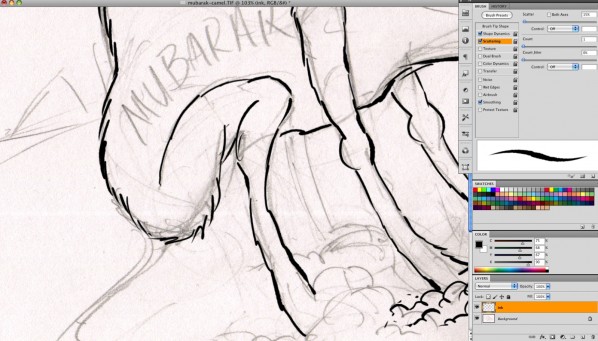 Lineart closeup: The next few images will capture my lineart steps, drawing on a layer OVER the sketch base art.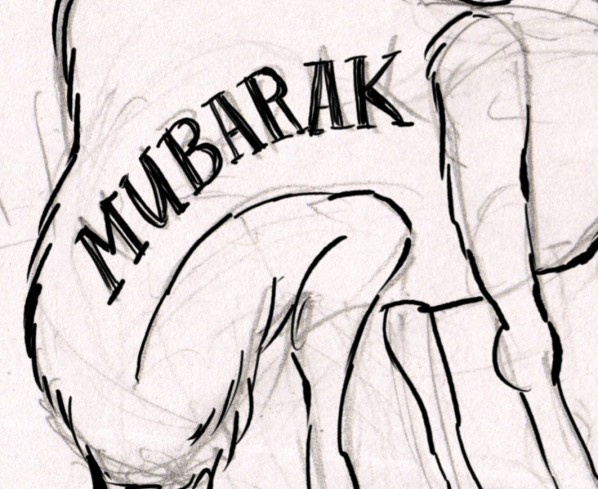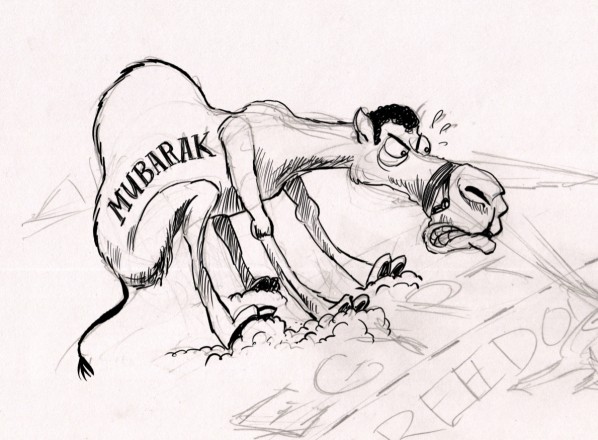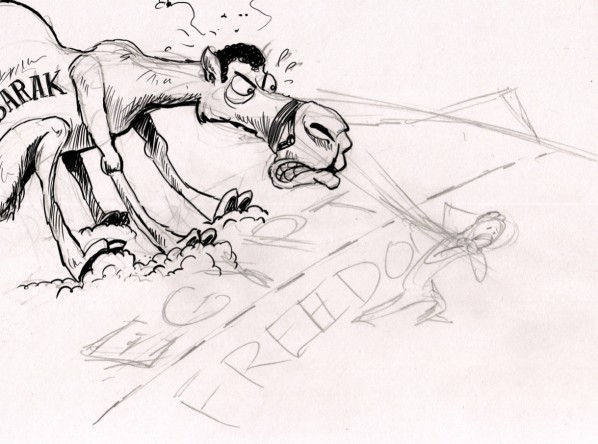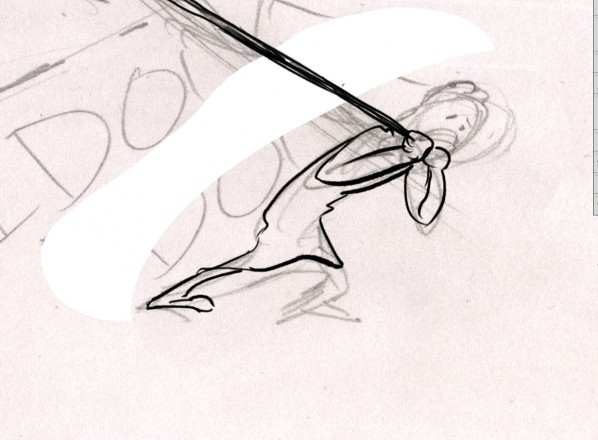 Above, I copied the citizen from the art, and PASTED, moving him to the right. I felt he was a little too close to Mubarak.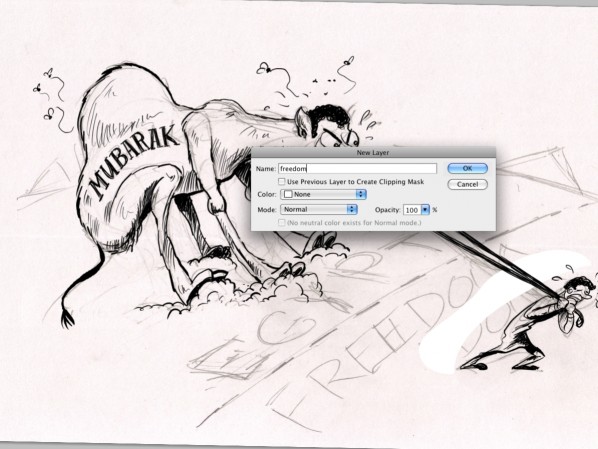 Above, I make a NEW LAYER> tiled Freedom. I wanted full control over the text "Freedom" I was about to draw in the sand. I made a new layer so I could easily manipulate the art for perspective. Don't be afraid to make layers. I try to keep it as simple as possible, with very few layers, but whatever works for you.
Above, the "FREEDOM" starts as loose lineart. (Canvas is Rotated)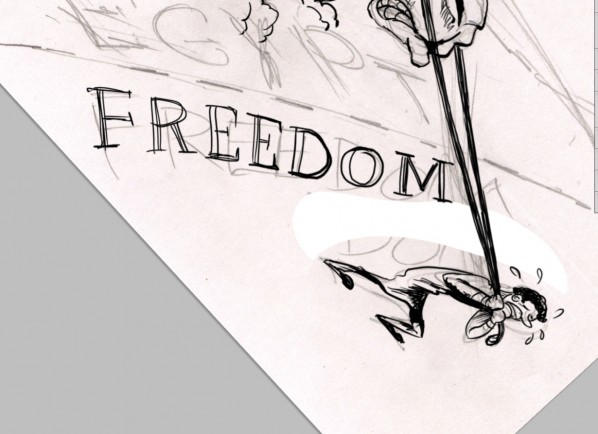 Above, "FREEDOM" is finished, so I flatten it to the INK layer.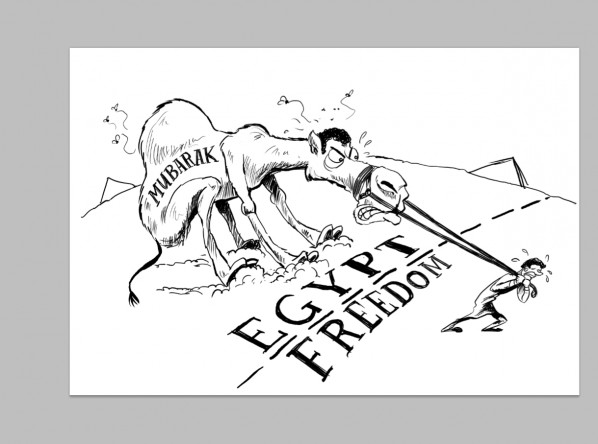 Above, made > NEW LAYER>100% White, and arranged it between the INK LAYER and the SKETCH LAYER to better see what my ink lines look like. I turn this WHITE layer on and off a lot to better see the fine lines and mistakes.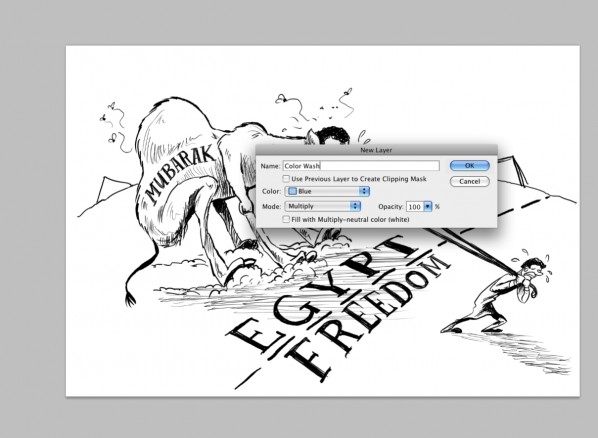 Above, NEW LAYER> "Color Wash" > MULTIPLY. This layer acts as a transparent 'watercolor-type' wash. I lay down most of my color in this layer. If you've ever used watercolor (real traditional media), this layer acts like watercolor, adding and building up the more you add to it. You can also do this by changing your brush type to Multiply, or even add WET EDGES for a more simulated watercolor.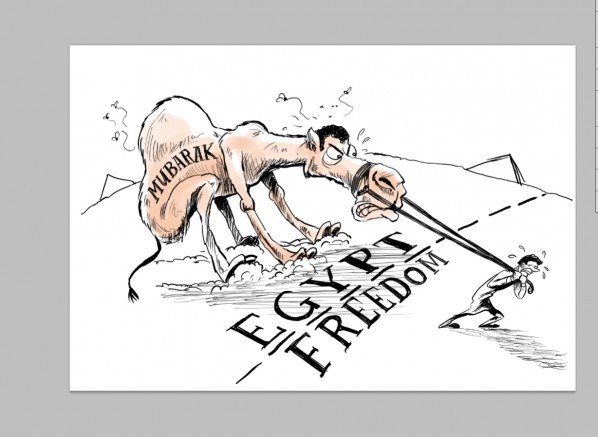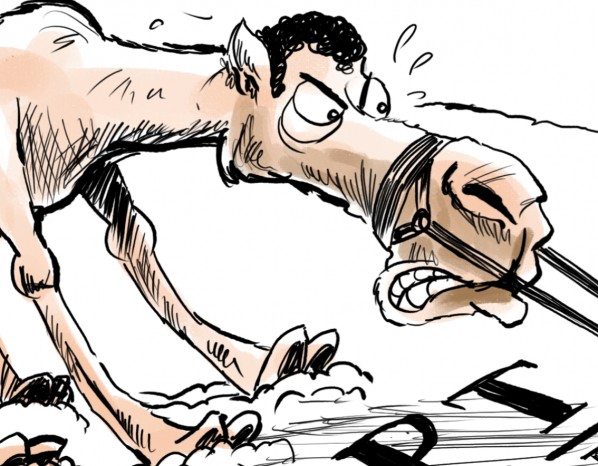 Above, I mixed up a darker brown to wash on top of the camel color base.
Above, a snapshot of the BRUSH I use for color. OPACITY>PEN PRESSURE, TEXTURE> Linen, SPACING>0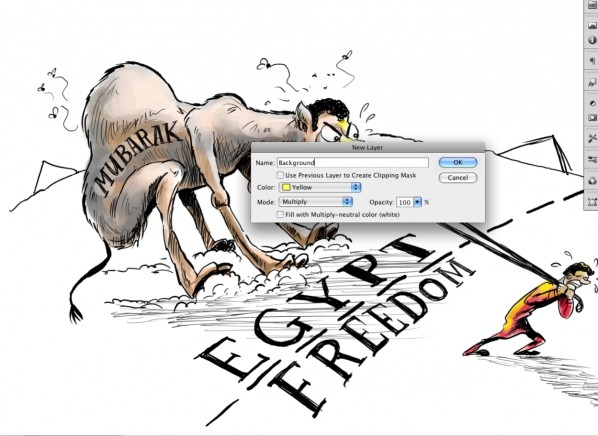 Above, I'm happy with the basic COLOR WASH I've started. Now I want more control over the BACKGROUND color. NEW LAYER>'Background', MULTIPLY>100%. I tend to throw big blocks of background color on their own layer so I can easily manipulate the HUE/SATURATION if I'm not happy with the tone or mood of the cartoon.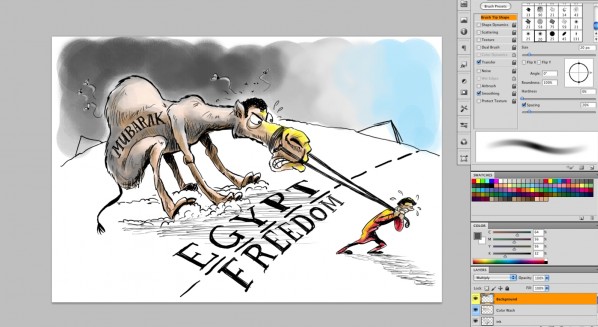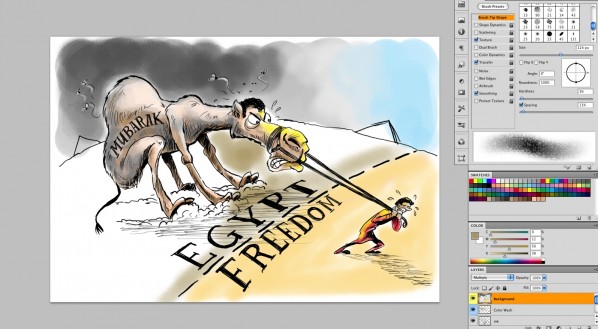 Above, I want to more dramatically indicate that Egypt, under the rule of Mubarak, is a dark and cloudy place, while a Free Egypt has a sunny outlook. I make a NEW LAYER> MULTIPLY'Dark Shadows'>50%. I'm going to paint BLACK on this layer to provide fast shadows that use the already applied underlying color. This is faster than painting the actual shadow detail with darker color. I do BOTH techniques often, but for this tutorial, its a great shortcut to know.
Lastly, one of my favorite tricks…I've previously scanned my BRYant signature, making it a BRUSH. One click, and I have applied a consistent signature on any layer.
More Cartoons Like This:
Inspiration:

A poignant political cartoon featuring the Crisis is Egypt and President Mubarak. Mubarak is drawn as a stubborn camel pulled by a citizen.
Media:

Pencil Sketch, scanned and illustrated in Photoshop
Time:

Sketch: 10 minutes, Art: 60 Minutes, Tutorial: 30 Minutes